| | |
| --- | --- |
| Photo Credit: Andrea Dixon | A group poses with a Pride flag next to the geographic South Pole. |
U.S. Antarctic stations celebrate Polar Pride Day
Posted November 18, 2021
Today marks the second annual Polar Pride Day, a celebration of the LGBTQ+ individuals who support and conduct polar research. Held on the same day as LGBTQ+ STEM Day, Polar Pride demonstrates the international commitment to supporting and enhancing diversity in polar research.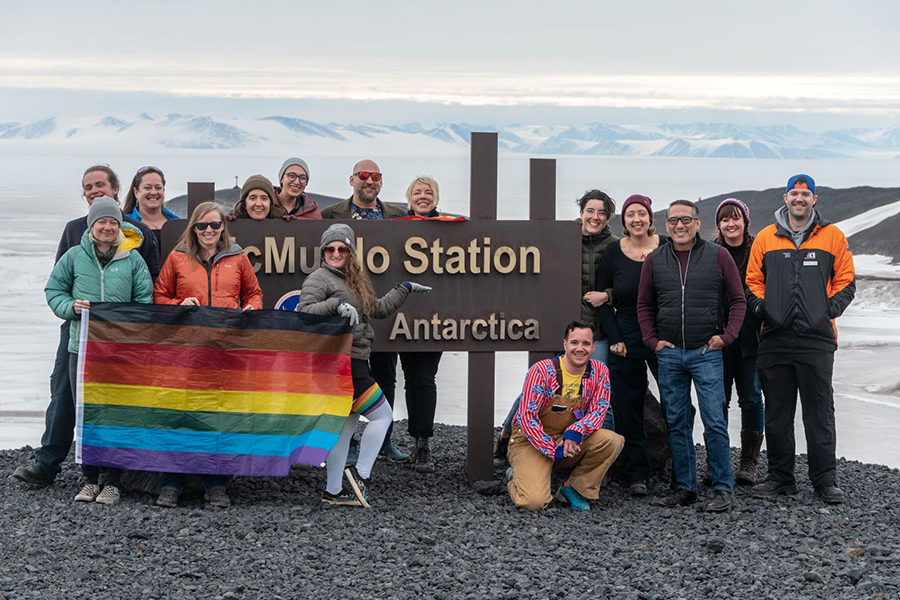 Photo Credit: Ioffe Lee
McMurdo Station staff and scientists pose with a pride flag in front of the McMurdo Station sign.
Nearly 50 countries participated in the inaugural Polar Pride Day in 2020. In addition to celebrating queer researchers and support staff working at the poles, Polar Pride aims to foster a more diverse understanding of who polar researchers are.
"The U.S. Antarctic Program is proud to be part of Polar Pride celebrations across the world," said Roberta Marinelli, Director of the National Science Foundation Office of Polar Programs, which manages the U.S. Antarctic Program. "Polar Pride Day is a way for us to show our support and appreciation for the LGBTQ+ community and their contributions to polar research. We see this as a step forward in making the polar research community diverse, inclusive, and welcoming for all."
This year, USAP stations are celebrating with social gatherings, Pride flag displays, rainbow-themed clothing and desserts, and even an LGBTQ+ movie takeover. Pride celebrations are taking place all over the continent, from the Antarctic Peninsula to the McMurdo Dry Valleys. Here are some photos from Polar Pride celebrations this year.