U.S. Antarctic Program personnel send Midwinter's Greetings
Midwinter's Day has been celebrated by the winter population in Antarctica since the early days of exploration. The winter solstice is a turning point when people begin to think about the coming summer and the end of the austral night. Throughout the continent celebrations are held and messages of good will circulate among the stations.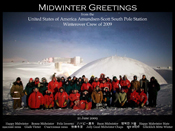 South Pole Station winter-overs gather in front of the decommissioned dome for their midwinter greetings photo.
Beginning with the International Geophysical Year, the President of United States has sent a special Midwinter's Message to all of the wintering personnel at U.S. and other nation's Antarctic stations. This year, President Obama recognized the contribution that science and support personnel make to our understanding of climate change and the example that the Antarctic community sets for international cooperation. In his message, he sent his wishes for continued success. In closing he said,
"With your dedication, as well as your sense of adventure and discovery, you follow in the long tradition of Antarctic researchers and explorers. On behalf of all who are benefiting from accomplishments, I thank you for a job well done."
This year greeting messages were sent from the South Pole and McMurdo Station. To learn more about the history of the celebration, see the article Midwinter Moment

in the The Antarctic Sun

.