U.S. Antarctic stations celebrate Polar Pride Day
Polar Pride celebrations span the frozen continent
Posted December 02, 2022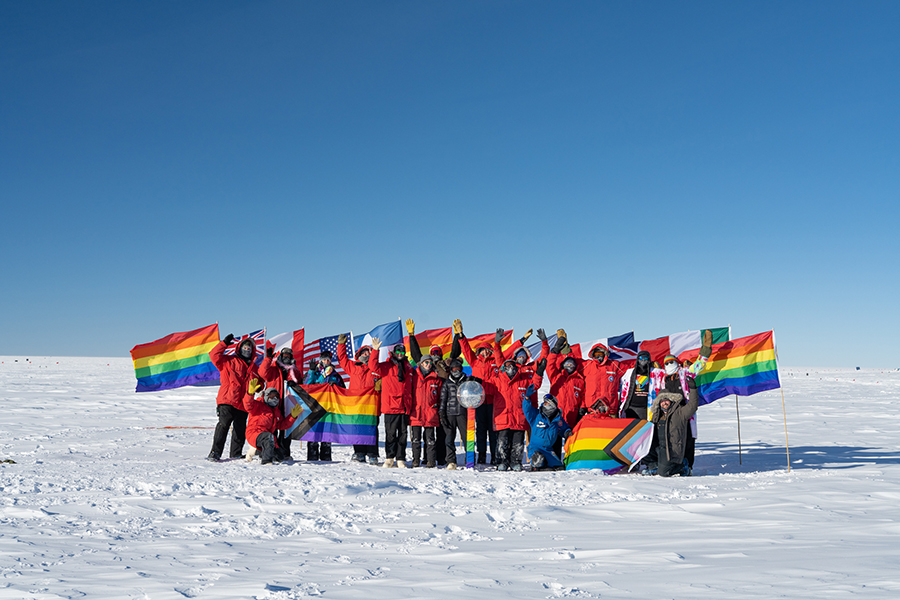 Photo Credit: Aman Chokshi
Residents of Amundsen-Scott South Pole Station pose with a Pride flag next to the geographic South Pole.
U.S. Antarctic Program participants observed the third annual Polar Pride Day on November 18, a celebration of the LGBTQ+ individuals who support and conduct polar research. Held on the same day as LGBTQ+ STEM Day, Polar Pride demonstrates the commitment to supporting and enhancing diversity in polar research.
Nearly 50 countries participated in the inaugural Polar Pride Day in 2020, and participation continues to grow. In celebrating Polar Pride Day, participants aim to foster a more diverse understanding of who polar researchers are and celebrate the contributions of LGBTQ+ researchers and support staff at Earth's poles.
This year, USAP stations celebrated with social gatherings, Pride flag displays, rainbow-themed clothing and desserts, and even an LGBTQ+ movie weekend. Stations across the Antarctic continent also shared pride-themed video messages with each other. Here are some photos from this year's Polar Pride celebrations.