Educational Resources: K-5
Penguins and More
Learn about scientists, penguins, and more!
Penguin Science
Connect with penguin scientists during the austral summer months of November and December.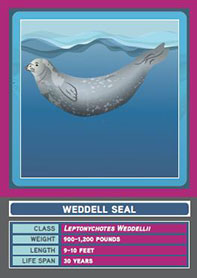 These DIY cards can be easily
printed and assembled, and feature illustrations
and interesting facts of various well-known
and not so well-known Antarctic creatures.
DisneyNature™ movie Penguins
The DisneyNature™ movie Penguins is a coming-of-age story about an Adelie penguin named Steve who is on a quest to find a partner. The associated lesson plans about Antarctic Animals are independent of the movie. There are Educator Lesson Plans as well as a Student Activity Packet.
Antarctic Whale Research
A 1:20 minute video about whale research.
Antarctic Animal Trading Cards
These DIY Antarctic animal trading cards can be easily printed and assembled.
Dinosaurs of Antarctica
The Dinosaurs of Antarctica Educator Guide is appropriate for students in grades K-8. Explore the Time Traveling Dino Detectives of Antarctica comic book.
Life Under the Ice
Visit Ariel Waldman's website and explore her videos! The videos will take you on a tour of the area around McMurdo Station, Antarctica as she looks for microscopic critters under the ice. You can also watch Ariel on SciShowKids.
A mysterious disease in Antarctic fish
This graphic novel takes the reader on a scientific expedition to Antarctica, where a mysterious disease is discovered that affect fish. The story is appropriate for students in grades K-8.
Marine Biology Webinar
Watch marine biologist Amy Moran and her team at McMurdo Station, Antarctica as they explain their research in the coldest ocean water on the planet.