Most Recent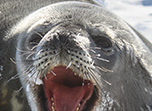 Scoping Out The Seal Mating Scene
News
Monday September 20, 2021
Biologists have been observing how male Weddell seals secure prime locations when courting females to learn more about the southernmost mammal's mysterious breeding behavior.

Meet The Penguin Misfits
News
Tuesday September 07, 2021
Looks are important for Adelie penguins, but they may not be as critical for breeding as biologists previously thought.
Quick Find
Archives
| | | | |
| --- | --- | --- | --- |
| 2021 | 2020 | 2019 | 2018 |
| 2017 | 2016 | 2015 | 2014 |
| 2013 | 2012 | 2011 | 2010 |
| 2009 | 2008 | 2007 | 2006 |
| 2005 | 2004 | | |
More Results
Aug


23


2021
Coldest, Driest, Saltiest Antarctic Soils Might Be Inhospitable To Life
Some Antarctic soils might be the only environments on Earth microbes can't colonize, a finding that goes against scientists' expectations of our planet's habitability.
Aug


09


2021
Warm Ocean Water Is Eroding Thwaites Ice Shelf From Below
Scientists got their first glimpse at the ocean conditions surrounding the Thwaites Ice Shelf in 2019, and recently published results are worrisome for the rapidly melting ice shelf and the glacier behind it.
Aug


04


2021
Your Feedback is Needed: Take the NSF Content Survey
We have put together a short survey to let us know your role within the polar community, your preferred communications channels, and what content you are interested in receiving! The survey should only take 5 minutes and will help us provide better, more valuable information to you and others in the polar community.
Aug


04


2021
NSF selects Roberta Marinelli as director of the Office of Polar Programs
The National Science Foundation (NSF) has selected Dr. Roberta Marinelli to serve as director of the Office of Polar Programs, overseeing Arctic and Antarctic research and operational support for polar facilities. Dr. Marinelli brings a wealth of knowledge and experience to this position, having served in OPP as a program director in Antarctic Biology and Medicine (1997-2000) and in Antarctic Organisms and Ecosystems (2005-2011). Her deep understanding of NSF's fundamental role in creating opportunities for the research community and supporting polar science research infrastructure has led to advanced international partnerships to improve Antarctic research capabilities.
Jul


23


2021
Jonathan "Mike" Prince joins Office of Polar Programs as Antarctic Research Vessel Program Manager
The Office of Polar Programs (OPP) Antarctic Infrastructure and Logistics Section is excited to welcome Mr. Jonathan "Mike" Prince as the Antarctic Research Vessel (ARV) Project Manager. In this position, Mr. Prince is responsible for providing technical guidance and direct engagement on overall project development, design, planned construction, and delivery of the Antarctic Research Vessel, a major Office of Polar Programs MREFC initiative. Mr. Prince coordinates with contract personnel, vessel support groups, other sections in OPP, as well as other programs throughout NSF to achieve the project goals.
Jul


21


2021
Antarctic Stations Celebrate 2021 Midwinter's Day
In Antarctica, the winter solstice is the longest night of the year and marks the halfway point of winter. Since the time of the early explorers, those who work in Antarctica during the long dark night have celebrated Midwinter's Day.
Jul


12


2021
McMurdo Station medical evacuation
The National Science Foundation is grateful for the assistance provided by the New Zealand Defense Force during the medical evacuation from McMurdo Station that took place last weekend. Antarctica New Zealand, with whom the U.S. Antarctic Program has enjoyed a longstanding partnership, helped coordinate the effort.
Jul


01


2021
RESEARCH UPDATE: Researchers Use Ice-Penetrating Radar to Better Understand Antarctic Glaciology
A recent publication from NSF-funded research by scientists at UC Santa Cruz has examined how electrical conductivity, and not radar reflectivity alone, should be used in investigating subglacial materials.
Jun


28


2021
RESEARCH UPDATE: Young Weddell seals need to practice navigating before hunting
According to a new NSF-funded study from California Polytechnic State University, Weddell seal pups may be one of the only types of seals to learn to swim from their mothers.
Jun


16


2021
Michael Gencarelli appointed Planning Manager for the U.S. Antarctic Program
Mr. Michael Gencarelli has been appointed to be the Planning Manager for the U.S. Antarctic Program (USAP), and will be responsible for the full range of planning across the program. This includes overseeing station plans and Capital Investment Plan for facilities and infrastructure, project plans to implement funded work, and long-range and annual program plans to guide sustaining activities in Antarctica. This position is part of the Section for Antarctic Infrastructure and Logistics at NSF.
Jun


15


2021
Salt levels in ice cores tell stories of ocean conditions past
Salt levels in an ice core drilled at the South Pole are telling scientists what Antarctic sea ice conditions were like in the past. This information is crucial to understanding how the continent will fare in a changing climate.
May


27


2021
On the Wings of Petrels
While penguins may be viewed as the iconic Antarctic bird, there are many other species that call the continent and Southern Ocean home. As part of NSF's Long Term Ecological Research (LTER) project, a group of scientists are looking at the bird species along the Western Antarctica Peninsula.
May


26


2021
RESEARCH UPDATE: Marine ice-cliff instability at the West Antarctic Ice Sheet
The West Antarctic Ice Sheet (WAIS) holds enough ice to raise global sea levels by about three meters. The ice sheet is also vulnerable to rapid retreat through a process called marine ice-cliff instability (MICI).
| | | |
| --- | --- | --- |
| Results 1 through 15 of 623 | Page 1 of 42 | |