Most Recent

Want to Work in Antarctica? The USAP is Looking for Station Area Managers
Announcements
Tuesday September 15, 2020
Station Area Managers are responsible for overseeing all site operations from planning through execution for the following major activities: science activities, operations, facilities, projects, transportation and logistics, and information technology.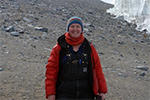 Rhemann joins Office of Polar Programs as Science Assistant for Antarctic Sciences
Announcements
Tuesday September 15, 2020
Jennifer Rhemann has joined NSF as the new Science Assistant for Antarctic Sciences, Office of Polar Programs. Jennifer has supported the USAP as a contractor for 19 years, working 14 summers and six winters at McMurdo Station multiple support roles and has pursued graduate education in Antarctic sciences and polar law and policy. She has worked toward professional certifications including Incident Command Systems, Emergency Management, and Aviation Risk Management.
Quick Find
Archives
| | | | |
| --- | --- | --- | --- |
| 2020 | 2019 | 2018 | 2017 |
| 2016 | 2015 | 2014 | 2013 |
| 2012 | 2011 | 2010 | 2009 |
| 2008 | 2007 | 2006 | 2005 |
| 2004 | | | |
More Results
Sep


10


2020
Deep Channels Link Ocean to Antarctic Glacier
Newly discovered deep seabed channels beneath Thwaites Glacier in West Antarctica may be the pathway for warm ocean water to melt the underside of the glacier.
Sep


02


2020
Detecting Anomalous Life Swarms
Using high-frequency surface radar, ocean gliders, and underwater moorings, scientists take a close look at the ecosystem of the Palmer Deep to understand biological hot spots throughout the oceans surrounding the Antarctic Peninsula.
Aug


28


2020
Fossil Evidence of 'Hibernation-Like' State in 250-Million-Year-Old Antarctic Animal
In a paper published August 27, 2020 in the journal Communications Biology, NSF-funded scientists at the University of Washington and its Burke Museum of Natural History and Culture report evidence of a hibernation-like state in an animal that lived in Antarctica during the Early Triassic
Aug


18


2020
Equatorial Winds Ripple Down to Antarctica
An NSF-funded University of Colorado Boulder-led team is first to observe new equatorial wind patterns in Antarctica, revealing new connections in global circulation. The team has uncovered a critical connection between winds at Earth's equator and atmospheric waves 6,000 miles away at the South Pole.
Aug


13


2020
PODCAST: Field Support and Training
Antarctica is a continent full of potential hazards. It's up to the USAP's Field Support and Training team to keep scientists and support staff safe when working in its remote landscapes. Listen to this podcast and others in the Antarctic Sun, the online news site of the NSF-managed U.S. Antarctic Program.
Jul


01


2020
Insects In The Extreme
Scientists are taking a close look at Antarctica's largest land animal. It's a small insect called the Antarctic midge, and they don't grow much bigger than a fingernail. There are a lot of persistent questions about these critters, and researchers are hoping that a broad study of their tiny genome can start to reveal some answers.
Jun


30


2020
Nelson joins OPP as Safety and Occupational Health Manager
Mr. Chris Nelson has joined OPP as a Safety and Occupational Health Manager with over 11 years of professional experience that includes diverse operational expertise in construction, operations, and maintenance, service contracts, and government agreements.
Jun


19


2020
Antarctic Stations Celebrate 2020 Midwinter's Day
In Antarctica, the winter solstice is the longest night of the year and marks the halfway point of winter. Since the time of the early explorers, those who work in Antarctica during the long dark night have celebrated Midwinter's Day.
Jun


11


2020
UPDATE: USAP Plans for the Upcoming Antarctic Season
Due to the global COVID-19 pandemic, there will be significant changes to the upcoming Antarctic season. The NSF is committed to supporting the research community's needs through this internationally disruptive event.
Jun


09


2020
Sung joins OPP as Science Policy Advisor
Dr. Nancy Sung has joined OPP to help develop and coordinate OPP's contributions to NSF's science policy efforts as well as in interagency and international polar policy matters. Before coming to OPP, Dr. Sung served at NSF for eight years, most recently as Science Advisor for Biological Sciences.
Jun


09


2020
At-Home Classroom Activity: Make Your Own Antarctic Animal Trading Cards
Looking for something to do with your young kids? Antarctica is home to some incredible animals that call the harshest continent home. These downloadable, DIY cards can be easily printed and assembled, and feature illustrations and interesting facts of various well-known and not so well-known Antarctic creatures.
Jun


02


2020
Pumping Iron
Dissolved iron trickling from glacial streams into Antarctica's Southern Ocean helps algae grow, but not a whole lot makes it there. As more glaciers melt, more iron will flow in. What's that going to mean for marine ecosystems, and might it be enough to affect the climate?
Jun


01


2020
Keeping Science in Antarctica Going and the Continent COVID-19-Free
NSF's Science Matters spoke with Erin Heard, station manager of NSF's McMurdo Station, about life on the ice during the Antarctic winter; steps NSF is taking to prevent COVID-19 from arriving on the continent; and tips for dealing with social isolation.
| | | |
| --- | --- | --- |
| Results 1 through 15 of 553 | Page 1 of 37 | |