Most Recent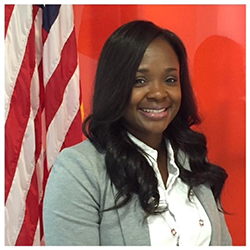 Tammy Perkins joins the Office of Polar Programs as Business Manager for the U.S. Antarctic Program
Announcements
Monday April 12, 2021
Ms. Perkins is a native of University Heights, Ohio. She began her federal government career as a business opportunity specialist/program analyst for the U.S. Small Business Administration (SBA) in the HUBZone program office. Prior to joining the National Science Foundation, Ms. Perkins worked for the Federal Systems Integration and Management Center (FEDSIM) office, a client support center, within the General Services Administration's (GSA) Office of Assisted Acquisition Services (AAS) that provides assisted acquisition services.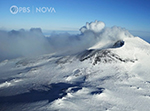 NOVA Explores Mt. Erebus Volcano
News
Saturday April 10, 2021
Most people associate Antarctica with snow and ice, but perhaps the most extreme geographic feature of the continent is Mount Erebus, one of Antarctica's two active volcanoes and the southernmost active volcano on Earth.
Quick Find
Archives
| | | | |
| --- | --- | --- | --- |
| 2021 | 2020 | 2019 | 2018 |
| 2017 | 2016 | 2015 | 2014 |
| 2013 | 2012 | 2011 | 2010 |
| 2009 | 2008 | 2007 | 2006 |
| 2005 | 2004 | | |
More Results
Apr


10


2021
UAVs Monitor Cape Crozier's Adelie Penguin Colonies
Antarctica's Cape Crozier is one of the biggest Adelie penguin colonies in the world. The colony is home to an estimated 600,000 penguins, but getting an accurate count is difficult.
Apr


07


2021
Icefin Robot: a small, under-ice, robotic oceanographer
Studying remote parts of Antarctica and its glaciers can require specialized equipment and innovative technologies. Georgia Tech researcher Dr. Britney Schmidt is the lead scientist for Icefin Robot: a small, under-ice, robotic oceanographer.
Mar


31


2021
Cruising for Mollusks
Scientists are going to the ends of the Earth to discover all they can about an obscure group of sparkly, worm-like mollusks. In October, researchers sailed from California to Antarctica searching for aplacophorans, a diverse group of poorly understood distant sea slug cousins.
Mar


30


2021
Black Hole photographed in Event Horizon Telescope Collaboration
The Event Horizon Telescope (EHT) collaboration, has recently released a new view of the first-ever photographed black hole from 2019. Except this time they are showing how it looks in polarized light.
Mar


26


2021
Appointment of Dr. Maria Vernet, Program Director, Organisms and Ecosystems
Dr. Vernet, who joined OPP in October of last year, is trained as a biological oceanographer and earned her Ph.D. from the University of Washington, working on phytoplankton photosynthetic pigments and their role as proxies for biodiversity and grazing processes the North Pacific Gyre and the fjords in Puget Sound, WA.
Mar


22


2021
Media visits to the Arctic and Antarctic suspended for 2021-2022
The health and safety of the polar research community continues to be NSF's top priority. The COVID-19 pandemic has significantly limited research opportunities to the Arctic and Antarctic regions in the past year, and travel restrictions continue to make access to these regions logistically challenging. Due to these continued limitations, the need to prioritize science, and the importance of keeping COVID-19 out of Antarctica and the Arctic communities, NSF has decided to cancel media visits to these areas for the upcoming research seasons. NSF is committed to media engagement in the Arctic and Antarctic and will make an announcement at a later date regarding future on-site media opportunities.
Mar


17


2021
Charting a Genetic Sea Change
Scientists are mapping the coastline of ancient Antarctica using DNA from underwater invertebrates alive today.
Mar


10


2021
IceCube Sees a Glashow Resonance Event
On December 6, 2016, IceCube saw a Glashow resonance event, a phenomenon predicted by Nobel laureate physicist Sheldon Glashow in 1960. With this detection, scientists provided another confirmation of the Standard Model of particle physics.
Mar


10


2021
Appointment of Robert Moore, Acting Section Head, Division of Atmospheric and Geospace Sciences
Dr. Robert Moore will assume the duties of Acting Section Head of the Geospace Section in the Division of Atmospheric and Geospace Sciences (AGS) starting March 14, 2021. He will replace Dr. Michael Wiltberger, who has finished his fourth year on an IPA assignment at NSF, and will return to his home institution, National Center for Atmospheric Research.
Mar


01


2021
PODCAST: The McMurdo Station Fire Department
Fighting fires and keeping people safe is important everywhere, especially in the dry and windy conditions of Antarctica. It's why McMurdo Station has its own dedicated fire department.
Feb


25


2021
Record melting on the Antarctic George VI Ice Shelf
The George VI Ice Shelf, Antarctic Peninsula, experienced the longest melt season in three decades.
Feb


22


2021
Kimberly Ohnemus joins OPP as John A. Knauss Marine Policy Fellow
Kimberly Ohnemus is a Cape Cod native who has spent the majority of her life along the coastlines of New England. She earned a bachelor's degree in biology, concentrating in ecology and evolution, from Skidmore College in 2014. After a brief career as an educator, she chose to pursue environmental policy, graduating from the University of Rhode Island with an MA in Marine Affairs in the spring of 2020.
Feb


17


2021
Counting On Seals
Though smaller than in a typical year, a team of scientists traveled to Antarctica to study the seal pups born around McMurdo Station, and keep the world's longest Weddell sea population dataset going strong after 52 years.
| | | |
| --- | --- | --- |
| Results 1 through 15 of 603 | Page 1 of 41 | |