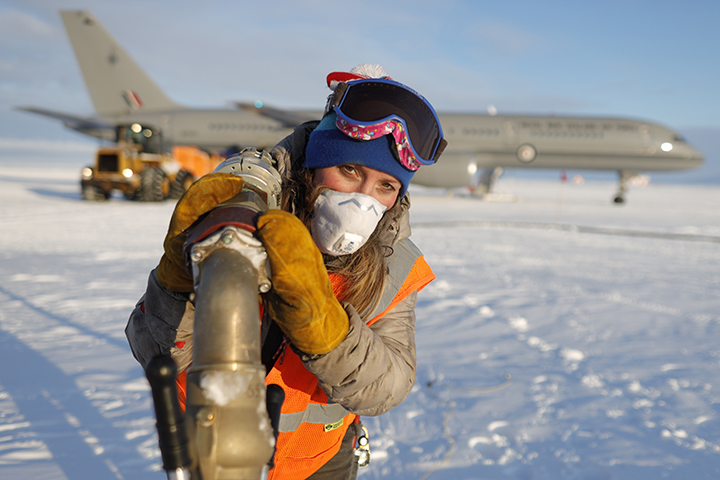 A USAP fuels operator carries a fuel hose to a Royal New Zealand Air Force 757 jet at McMurdo Station's Phoenix Airfield.
Overview
The U.S. Antarctic Program deploys roughly 3,000 people to Antarctica every year, mostly during the austral summer from October through February. These participants include: scientists who conduct research; support staff who operate and maintain the U.S. research stations and vessels; members of the military and other federal agencies; artists and writers who use art to broaden public awareness of Antarctica; and members of the media who report on Antarctic science.
If you're interested in a job or opportunity with USAP that falls into one of the categories above, continue reading to find positions that best suit you.
Please note that USAP only deploys participants who contribute to U.S. research in Antarctica. Activities not supported by the program include but are not limited to:
Private expeditions by mountain climbers or adventurers
Visits to promote commercial products
"Space-available" passage on support aircraft flights
Sightseeing or other tourism activities, including photo tourism
Individuals wanting to visit Antarctica for these activities must book travel through a private tour company.
Jobs and opportunities
If you're interested in a job or opportunity with the U.S. Antarctic Program, browse the list below to find the position that best suits you. USAP is an equal opportunity employer; women and members of minority groups are encouraged to apply for participation in all aspects of the program. Please note that not every position offers deployment to Antarctica.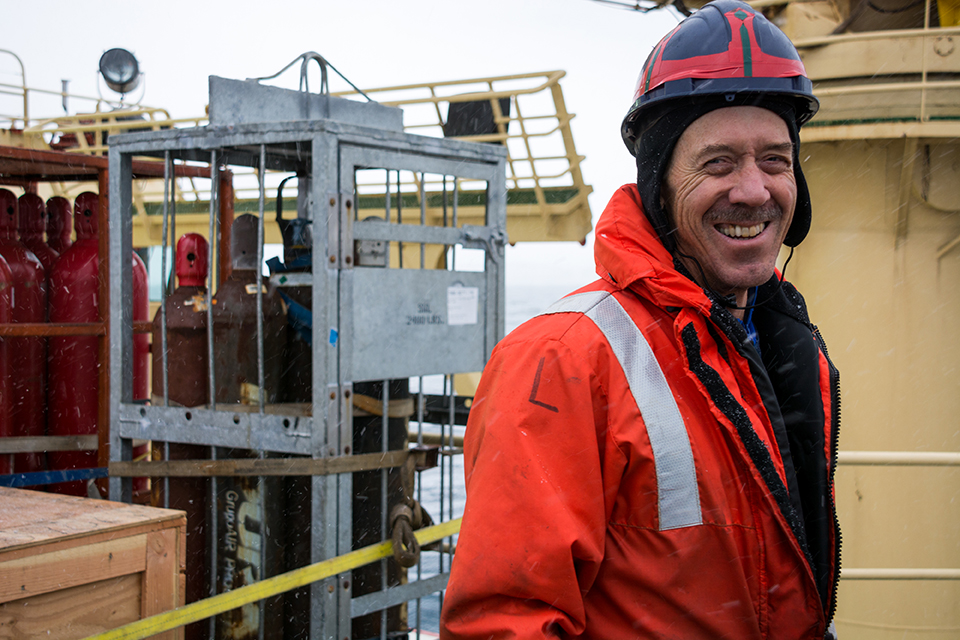 A USAP marine projects coordinator helps load cargo and deliver supplies to penguin researchers at Cape Shirreff on the Antarctic Peninsula.
USAP management
The U.S. Antarctic Program is managed by the National Science Foundation Office of Polar Programs (OPP). OPP staff review scientific grant proposals, manage the operations of U.S. research stations and vessels, and oversee other aspects of the program. Job opportunities with OPP can be found on the NSF jobs website and on USAJOBS.
Scientists
The Office of Polar Programs provides grants to scientists at U.S. research institutions, universities, and other organizations for the purpose of conducting field research in Antarctica as well as analytical research at their home institutions. Antarctic research is conducted in the region south of 60 degrees south latitude in disciplines such as marine biology, Earth and ocean sciences, and astrophysics.
The procedure for submitting grant proposals is described in NSF's Proposal & Award Policies & Procedures Guide.
Support staff
USAP staff who support scientific operations in Antarctica are hired under the Antarctic Support Contract, which is managed by Leidos. The Antarctic Support Contract hires full-time employees as well as seasonal contractors who work at U.S. research stations and on research vessels. Job opportunities are available with:
Support positions at partner institutions
Positions that support USAP science are also available at some partner institutions and universities. Opportunities are available with, but not limited to, the following:
Artists and writers
The National Science Foundation Antarctic Artists and Writers program provides opportunities for scholars in the humanities (painting, photography, writing, history, and other liberal arts) to work in Antarctica and the Southern Ocean. The goal is to facilitate writing and artistic projects that will increase the public's understanding and appreciation of Antarctica and human endeavors on the southernmost continent. Learn more about the program and how to apply on the NSF website.
Media
Journalists can submit proposals to NSF to visit Antarctica during the austral summer season for the purpose of reporting on USAP research. The goal of these media visits is to raise awareness of the United States' scientific and operational activities in Antarctica and the Southern Ocean. NSF typically selects journalists whose reporting would make the broadest possible segment of the public aware of the importance of NSF-supported science in Antarctica. Information about media visits for the upcoming season, including how and when to apply, is posted to the OPP announcements page. General media inquiries should be sent to media@nsf.gov.
Opportunities with other federal agencies
The U.S. Antarctic Program deploys members of the military and participants from other federal agencies, including the Department of Defense, the National Aeronautics and Space Administration, and the National Oceanic and Atmospheric Administration. Opportunities with these agencies are available on USAJOBS and on specific department or laboratory sites, including but not limited to the Cold Regions Research and Engineering Laboratory and the South Pole Atmospheric Research Observatory.