If you have inquiries about information or a news story related to Antarctica, contact the following:
2022-2023 Antarctic Media Visits
NSF Office of Polar Programs (OPP)
See what the National Science Foundation is reporting about Antarctica, and find out how to subscribe to new press releases.
NSF Polar Programs News Releases
View the most recent news releases, including Antarctic science news.
Significant U.S. Science Discoveries from Antarctica
Read about the many notable scientific discoveries made by USAP researchers.
The Antarctic Sun Newspaper
Why do people go to Antarctica, and what do they do there? Read the USAP's newspaper to find out about U.S. Antarctic communities.
Video Clips, Maps and Images
USAP Participants continually document Antarctica through various multimedia. Take a look at the USAP web cams, ice-breaking ships, Dinosaurs on Ice, satellite images, and more.
USAP Logo and Usage Standards
For information on linking to the USAP website, using USAP logos, and copyright information.
Most Recent
Summary of the Polar Physical Qualification Process in Response to Changing COVID-19 Dynamics
Office of Polar Programs News
Tuesday July 26, 2022
To protect both the individuals deploying and the overall mission, it is critical that persons are healthy and medically fit for deployment.
---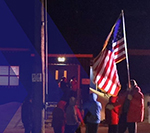 McMurdo Station parade celebrates July 4
USAP Headlines
Thursday July 21, 2022
Residents of McMurdo Station took part in the sixth-annual Independence Day parade earlier this month, a demonstration of their creativity and commitment to fun at the midpoint of the long Antarctic winter.
---
Quick Find
Archives
| | | | |
| --- | --- | --- | --- |
| 2022 | 2021 | 2020 | 2019 |
| 2018 | 2017 | 2016 | 2015 |
| 2014 | 2013 | 2012 | 2011 |
| 2010 | 2009 | 2008 | 2007 |
| 2006 | 2005 | 2004 | |