If you have inquiries about information or a news story related to Antarctica, contact the following:
2022-2023 Antarctic Media Visits
NSF Office of Polar Programs (OPP)
See what the National Science Foundation is reporting about Antarctica, and find out how to subscribe to new press releases.
NSF Polar Programs News Releases
View the most recent news releases, including Antarctic science news.
Significant U.S. Science Discoveries from Antarctica
Read about the many notable scientific discoveries made by USAP researchers.
The Antarctic Sun Newspaper
Why do people go to Antarctica, and what do they do there? Read the USAP's newspaper to find out about U.S. Antarctic communities.
Video Clips, Maps and Images
USAP Participants continually document Antarctica through various multimedia. Take a look at the USAP web cams, ice-breaking ships, Dinosaurs on Ice, satellite images, and more.
USAP Logo and Usage Standards
For information on linking to the USAP website, using USAP logos, and copyright information.
Most Recent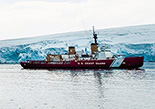 Coast Guard icebreaker visits Palmer Station for first time in 35 years
USAP Headlines
Friday March 10, 2023
The visit was an opportunity for the vessel to see Palmer's new pier and interact with station personnel on its way back to the United States.
---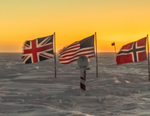 USAP COVID-19 Protocol Review Process
USAP Headlines
Friday March 10, 2023
In preparation for the 2023-24 research season, the Office of Polar Programs (OPP) will undertake a multi-step process to establish protocols to manage the continuing risks presented by COVID-19 to our deployers.
---
Quick Find
Archives
2023
2022
2021
2020
2019
2018
2017
2016
2015
2014
2013
2012
2011
2010
2009
2008
2007
2006
2005
2004