Most Recent

Want to Work in Antarctica? The USAP is Looking for Station Area Managers
Announcements
Tuesday September 15, 2020
Station Area Managers are responsible for overseeing all site operations from planning through execution for the following major activities: science activities, operations, facilities, projects, transportation and logistics, and information technology.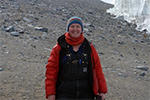 Rhemann joins Office of Polar Programs as Science Assistant for Antarctic Sciences
Announcements
Tuesday September 15, 2020
Jennifer Rhemann has joined NSF as the new Science Assistant for Antarctic Sciences, Office of Polar Programs. Jennifer has supported the USAP as a contractor for 19 years, working 14 summers and six winters at McMurdo Station multiple support roles and has pursued graduate education in Antarctic sciences and polar law and policy. She has worked toward professional certifications including Incident Command Systems, Emergency Management, and Aviation Risk Management.
Quick Find
Archives
| | | | |
| --- | --- | --- | --- |
| 2020 | 2019 | 2018 | 2017 |
| 2016 | 2015 | 2014 | 2013 |
| 2012 | 2011 | 2010 | 2009 |
| 2008 | 2007 | 2006 | 2005 |
| 2004 | | | |
If you have inquiries about information or a news story related to Antarctica, contact the following:
2020-2021 Antarctic Media Visits
NSF Office of Polar Programs (OPP)
See what the National Science Foundation is reporting about Antarctica, and find out how to subscribe to new press releases.
NSF Polar Programs News Releases
View the most recent news releases, including Antarctic science news.
Significant U.S. Science Discoveries from Antarctica
Read about the many notable scientific discoveries made by USAP researchers.
The Antarctic Sun Newspaper
Why do people go to Antarctica, and what do they do there? Read the USAP's newspaper to find out about U.S. Antarctic communities.
Video Clips, Maps and Images
USAP Participants continually document Antarctica through various multimedia. Take a look at the USAP web cams, ice-breaking ships, Dinosaurs on Ice, satellite images, and more.
USAP Logo and Usage Standards
For information on linking to the USAP website, using USAP logos, and copyright information.