Most Recent

EVENT: February 16, Virtual Industry Day for Operations and Science Support to the United States Antarctic Program
Announcements
Monday January 18, 2021
The United States Antarctic Program encompasses all U.S. scientific research and related logistics in Antarctica and aboard ships in the Southern Ocean. The program's world class science relies on seamless integration between operations and research support. NSF is beginning acquisition planning for a follow-on to the current Antarctic Support Contract, and wants to hear from interested parties at a Virtual Industry Day.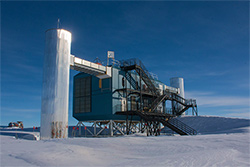 IceCube Collaboration Awarded the 2021 Bruno Rossi Prize
News
Thursday January 14, 2021
The 2021 Bruno Rossi Prize, awarded annually by the High Energy Astrophysics Division (HEAD) of the American Astronomical Society, "for a significant contribution to High Energy Astrophysics, with particular emphasis on recent, original work," has been awarded to Francis Halzen and the IceCube Collaboration.
Quick Find
Archives
| | | | |
| --- | --- | --- | --- |
| 2021 | 2020 | 2019 | 2018 |
| 2017 | 2016 | 2015 | 2014 |
| 2013 | 2012 | 2011 | 2010 |
| 2009 | 2008 | 2007 | 2006 |
| 2005 | 2004 | | |
If you have inquiries about information or a news story related to Antarctica, contact the following:
2020-2021 Antarctic Media Visits
NSF Office of Polar Programs (OPP)
See what the National Science Foundation is reporting about Antarctica, and find out how to subscribe to new press releases.
NSF Polar Programs News Releases
View the most recent news releases, including Antarctic science news.
Significant U.S. Science Discoveries from Antarctica
Read about the many notable scientific discoveries made by USAP researchers.
The Antarctic Sun Newspaper
Why do people go to Antarctica, and what do they do there? Read the USAP's newspaper to find out about U.S. Antarctic communities.
Video Clips, Maps and Images
USAP Participants continually document Antarctica through various multimedia. Take a look at the USAP web cams, ice-breaking ships, Dinosaurs on Ice, satellite images, and more.
USAP Logo and Usage Standards
For information on linking to the USAP website, using USAP logos, and copyright information.