If you have inquiries about information or a news story related to Antarctica, contact the following:
2022-2023 Antarctic Media Visits
NSF Office of Polar Programs (OPP)
See what the National Science Foundation is reporting about Antarctica, and find out how to subscribe to new press releases.
NSF Polar Programs News Releases
View the most recent news releases, including Antarctic science news.
Significant U.S. Science Discoveries from Antarctica
Read about the many notable scientific discoveries made by USAP researchers.
The Antarctic Sun Newspaper
Why do people go to Antarctica, and what do they do there? Read the USAP's newspaper to find out about U.S. Antarctic communities.
Video Clips, Maps and Images
USAP Participants continually document Antarctica through various multimedia. Take a look at the USAP web cams, ice-breaking ships, Dinosaurs on Ice, satellite images, and more.
USAP Logo and Usage Standards
For information on linking to the USAP website, using USAP logos, and copyright information.
Most Recent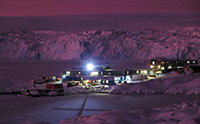 Antarctic stations celebrate Midwinter's Day
USAP Headlines
Wednesday June 22, 2022
In Antarctica, the winter solstice marks the halfway point of the harsh, cold, dark winter. Since the time of the early explorers, those who work in Antarctica during the long polar night have celebrated Midwinter's Day, a unique and special holiday for the southernmost continent.
---

Chat Live with Scientists in Antarctica!
Events
Tuesday June 21, 2022
Join ecologist Kim Bernard & her team live from Palmer Station, Antarctica for a live #WorldKrillDay event.
---
Quick Find
Archives
| | | | |
| --- | --- | --- | --- |
| 2022 | 2021 | 2020 | 2019 |
| 2018 | 2017 | 2016 | 2015 |
| 2014 | 2013 | 2012 | 2011 |
| 2010 | 2009 | 2008 | 2007 |
| 2006 | 2005 | 2004 | |