url
url
url
url
url
url
url
url
url
Most Recent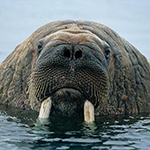 Your Feedback is Needed: Take the NSF Content Survey
News
Wednesday August 04, 2021
We have put together a short survey to let us know your role within the polar community, your preferred communications channels, and what content you are interested in receiving! The survey should only take 5 minutes and will help us provide better, more valuable information to you and others in the polar community.
NSF selects Roberta Marinelli as director of the Office of Polar Programs
Announcements
Wednesday August 04, 2021
The National Science Foundation (NSF) has selected Dr. Roberta Marinelli to serve as director of the Office of Polar Programs, overseeing Arctic and Antarctic research and operational support for polar facilities. Dr. Marinelli brings a wealth of knowledge and experience to this position, having served in OPP as a program director in Antarctic Biology and Medicine (1997-2000) and in Antarctic Organisms and Ecosystems (2005-2011). Her deep understanding of NSF's fundamental role in creating opportunities for the research community and supporting polar science research infrastructure has led to advanced international partnerships to improve Antarctic research capabilities.
Quick Find
Archives
| | | | |
| --- | --- | --- | --- |
| 2021 | 2020 | 2019 | 2018 |
| 2017 | 2016 | 2015 | 2014 |
| 2013 | 2012 | 2011 | 2010 |
| 2009 | 2008 | 2007 | 2006 |
| 2005 | 2004 | | |
If you have inquiries about information or a news story related to Antarctica, contact the following:
2021-2022 Antarctic Media Visits
NSF Office of Polar Programs (OPP)
See what the National Science Foundation is reporting about Antarctica, and find out how to subscribe to new press releases.
NSF Polar Programs News Releases
View the most recent news releases, including Antarctic science news.
Significant U.S. Science Discoveries from Antarctica
Read about the many notable scientific discoveries made by USAP researchers.
The Antarctic Sun Newspaper
Why do people go to Antarctica, and what do they do there? Read the USAP's newspaper to find out about U.S. Antarctic communities.
Video Clips, Maps and Images
USAP Participants continually document Antarctica through various multimedia. Take a look at the USAP web cams, ice-breaking ships, Dinosaurs on Ice, satellite images, and more.
USAP Logo and Usage Standards
For information on linking to the USAP website, using USAP logos, and copyright information.