Studying remote parts of Antarctica and its glaciers can require specialized equipment and innovative technologies.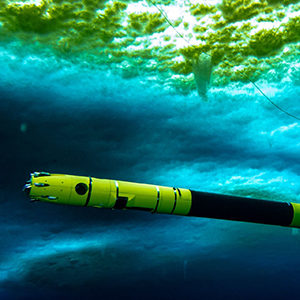 National Science Foundation
Office of Polar Programs
4201 Wilson Boulevard
Arlington, VA 22230
---
Posted April 7, 2021
Georgia Tech researcher Dr. Britney Schmidt is the lead scientist for Icefin Robot: a small, under-ice, robotic oceanographer. Icefin's incredible capabilities uses sonar, chemical and biological sensors to help researchers better understand sub-ice environments around and beneath ice shelves.
Icefin has played a critical role in the International Thwaites Glacier Collaboration ( https://thwaitesglacier.org/) MELT project, giving scientists the first images of life under the Thwaites Glacier and the Kamb Ice Stream. Not only does the use of Icefin impact our understanding of the Thwaites Glacier, but it has the opportunity to advance science beyond the continent. The work being done in the harsh conditions of Antarctica can help in the development of technology that may one day be needed to explore other oceans in our solar system.
To learn more about Icefin visit https://schmidt.eas.gatech.edu/icefin/.