url
url
url
url
url
url
url
url
url
Most Recent
PODCAST: The McMurdo Station Fire Department
News
Monday March 01, 2021
Fighting fires and keeping people safe is important everywhere, especially in the dry and windy conditions of Antarctica. It's why McMurdo Station has its own dedicated fire department.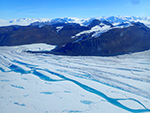 Record melting on the Antarctic George VI Ice Shelf
News
Thursday February 25, 2021
The George VI Ice Shelf, Antarctic Peninsula, experienced the longest melt season in three decades.
Quick Find
Archives
| | | | |
| --- | --- | --- | --- |
| 2021 | 2020 | 2019 | 2018 |
| 2017 | 2016 | 2015 | 2014 |
| 2013 | 2012 | 2011 | 2010 |
| 2009 | 2008 | 2007 | 2006 |
| 2005 | 2004 | | |
More Results
Feb


17


2021
Counting On Seals
Though smaller than in a typical year, a team of scientists traveled to Antarctica to study the seal pups born around McMurdo Station, and keep the world's longest Weddell sea population dataset going strong after 52 years.
Jan


29


2021
Weddell Seals Sing Songs Humans Can't Hear
The seals of McMurdo Sound are more vocal than previously thought. A new research paper published in the December edition of The Journal of the Acoustical Society of America shows that Weddell seals vocalize underwater at frequencies too high for humans to hear. It's the first time the extent of these high-frequency sounds have been identified.
Jan


27


2021
Shark Teeth Provide Clues About Ancient Global Change
Teeth from the long-extinct sand tiger shark are providing new information about massive global climate change and the movement of tectonic plates. NSF-funded University of California Merced Professor Sora Kim and colleagues have detailed in a recent paper.
Jan


14


2021
IceCube Collaboration Awarded the 2021 Bruno Rossi Prize
The 2021 Bruno Rossi Prize, awarded annually by the High Energy Astrophysics Division (HEAD) of the American Astronomical Society, "for a significant contribution to High Energy Astrophysics, with particular emphasis on recent, original work," has been awarded to Francis Halzen and the IceCube Collaboration.
Jan


11


2021
A 'Bot In The Ocean
For four months, a robotic surfboard-looking autonomous surface vehicle navigated the Southern Ocean around Antarctica, collecting data about the surrounding waters and atmosphere. This data will help researchers better understand how the Southern Ocean affects the planet's climate.
Jan


04


2021
The 2021 South Pole Marker
Every year on January 1, the new south pole marker is placed at 90 degrees south. Each new marker is designed and fabricated every winter by the wintering-over station personnel. This year's marker was designed by Geoffrey Chen and fabricated by Cal Neske.
Dec


17


2020
Changing the Face of Polar Exploration
Polar Impact, founded in 2019, has the mission to support, connect, and highlight the stories of Black, Asian, Indigenous, people of color, and minority ethnic professionals in the polar research community. Membership is free and they're looking to expand their support system.
Dec


16


2020
An Aerial Assessment Of Adelie Penguins
Scientists use an autonomous swarm of flying robots to count half a million penguins and map one of the biggest Adelie penguin colonies in Antarctica.
Dec


10


2020
The Next U.S. Deep Ice Core Drilling at Hercules Dome
Antarctica's next deep ice core, drilling down to ice from 130,000 years ago, will be carried out by a multi-institutional U.S. team at Hercules Dome, a location hundreds of miles from today's coastline and a promising site to provide key evidence about the possible last collapse of the West Antarctic Ice Sheet.
Dec


08


2020
Icy Inverts
Travel vicariously (and learn some exciting ocean science on the way) by following the adventures of the NSF-funded Icy Inverts team on their voyage to Antarctica. The team's 14-week mission is to travel to Antarctica and conduct research on the worms, crabs, sponges, and other invertebrates that live in these waters
Dec


06


2020
Melting Glaciers Release Much More Nutrients than Previously Thought
Researchers have found that water from melting glaciers in Greenland and Antarctica contains many high levels of trace element nutrients than is contained in typical rivers. This study found that the nutrient-rich meltwaters from ice sheets and glacial waters might have a much more significant effect on ocean productivity and ecosystems.
Dec


03


2020
Antarctic Artists And Writers Collective Launches New Website
A group of past participants in NSF's Artists and Writers Program has officially organized as the Antarctic Artists and Writers Collective (AAWC). Since the early 1980s, many artists, performers, and writers have traveled Antarctica, using their talents to tell the story of the continent through art, music, writing, and performance.
Dec


01


2020
Antarctica Day 2020
After six decades, today we celebrate this day of international cooperation - Antarctica Day. Antarctica Day commemorates the signing of the #Antarctic Treaty on Dec. 1, 1959. The Treaty sets aside the continent "forever to be used exclusively for peaceful purposes... in the interests of all mankind."
| | | |
| --- | --- | --- |
| Results 1 through 15 of 439 | Page 1 of 30 | |