url
url
url
url
url
url
url
url
url
Most Recent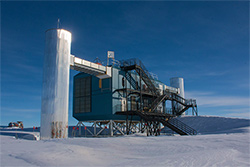 IceCube Collaboration Awarded the 2021 Bruno Rossi Prize
News
Thursday January 14, 2021
The 2021 Bruno Rossi Prize, awarded annually by the High Energy Astrophysics Division (HEAD) of the American Astronomical Society, "for a significant contribution to High Energy Astrophysics, with particular emphasis on recent, original work," has been awarded to Francis Halzen and the IceCube Collaboration.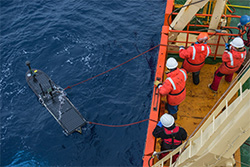 A 'Bot In The Ocean
News
Monday January 11, 2021
For four months, a robotic surfboard-looking autonomous surface vehicle navigated the Southern Ocean around Antarctica, collecting data about the surrounding waters and atmosphere. This data will help researchers better understand how the Southern Ocean affects the planet's climate.
Quick Find
Archives
| | | | |
| --- | --- | --- | --- |
| 2021 | 2020 | 2019 | 2018 |
| 2017 | 2016 | 2015 | 2014 |
| 2013 | 2012 | 2011 | 2010 |
| 2009 | 2008 | 2007 | 2006 |
| 2005 | 2004 | | |
More Results
Jan


04


2021
The 2021 South Pole Marker
Every year on January 1, the new south pole marker is placed at 90 degrees south. Each new marker is designed and fabricated every winter by the wintering-over station personnel. This year's marker was designed by Geoffrey Chen and fabricated by Cal Neske.
Dec


17


2020
Changing the Face of Polar Exploration
Polar Impact, founded in 2019, has the mission to support, connect, and highlight the stories of Black, Asian, Indigenous, people of color, and minority ethnic professionals in the polar research community. Membership is free and they're looking to expand their support system.
Dec


16


2020
An Aerial Assessment Of Adelie Penguins
Scientists use an autonomous swarm of flying robots to count half a million penguins and map one of the biggest Adelie penguin colonies in Antarctica.
Dec


10


2020
The Next U.S. Deep Ice Core Drilling at Hercules Dome
Antarctica's next deep ice core, drilling down to ice from 130,000 years ago, will be carried out by a multi-institutional U.S. team at Hercules Dome, a location hundreds of miles from today's coastline and a promising site to provide key evidence about the possible last collapse of the West Antarctic Ice Sheet.
Dec


08


2020
Icy Inverts
Travel vicariously (and learn some exciting ocean science on the way) by following the adventures of the NSF-funded Icy Inverts team on their voyage to Antarctica. The team's 14-week mission is to travel to Antarctica and conduct research on the worms, crabs, sponges, and other invertebrates that live in these waters
Dec


06


2020
Melting Glaciers Release Much More Nutrients than Previously Thought
Researchers have found that water from melting glaciers in Greenland and Antarctica contains many high levels of trace element nutrients than is contained in typical rivers. This study found that the nutrient-rich meltwaters from ice sheets and glacial waters might have a much more significant effect on ocean productivity and ecosystems.
Dec


03


2020
Antarctic Artists And Writers Collective Launches New Website
A group of past participants in NSF's Artists and Writers Program has officially organized as the Antarctic Artists and Writers Collective (AAWC). Since the early 1980s, many artists, performers, and writers have traveled Antarctica, using their talents to tell the story of the continent through art, music, writing, and performance.
Dec


01


2020
Antarctica Day 2020
After six decades, today we celebrate this day of international cooperation - Antarctica Day. Antarctica Day commemorates the signing of the #Antarctic Treaty on Dec. 1, 1959. The Treaty sets aside the continent "forever to be used exclusively for peaceful purposes... in the interests of all mankind."
Nov


22


2020
The Antarctica Week Festival 2020 Starts November 20th
International Thwaites Glacier Collaboration (ITGC) participants share their experiences living and working in Antarctica! Talks are targeted towards school-aged kids from ages 5 - 12+.
Nov


20


2020
The Infamy Of The Skua
Like clockwork in late November, the residents of McMurdo Station look to the sky and spot something that many haven't seen in months—birds. The arrival of these feathered creatures is greeted by many with curiosity and anticipation, but also with some suspicion. The audacious Stercorariidae maccormicki, or south polar skua, has an infamous reputation that precedes it.
Nov


18


2020
November 18th is Polar Pride Day
Whether you're a scientist, policy-maker, lawyer, contractor - however you may be involved, Polar Pride aims to celebrate and support the diversity of everyone involved in polar affairs! Coinciding with international LGBTQ+ in STEM (Science, Technology, Engineering and Mathematics) Day, let's all recognize this important day.
Nov


16


2020
Seal Pupping Season is Underway
Despite a reduced research team and logistical challenges this season, the #NSFfunded Weddell seal research team from Montana State University continues its seal population study in the Erebus Bay region of Antarctica's Ross Sea. This population of seals is the most southerly breeding population of mammal in the world and has been intensely studied since 1968.
Nov


12


2020
Yellow Light, Green Light
As people continue to arrive at the USAP stations after going through long periods of testing and quarantine, the station communities go into a 'yellow' level status to ensure the safety of everyone as COVID continues to spread in other parts of the world. McMurdo Station gets a brief 'green light' respite this weekend.
| | | |
| --- | --- | --- |
| Results 1 through 15 of 434 | Page 1 of 29 | |