Broadband: South Pole TDRSS Relay (SPTR)
South Pole Tracking and Data Relay Satellite System (TDRSS) Relay 2, or SPTR2, was built to communicate with the NASA Tracking and Data Relay (TDRS) satellites. There is one in-service TDRS satellite visible to SPTR2 at different times during the South Pole day: TDRS F6, which is used to provide communications services to South Pole Station.
The TDRS network has two types of service channels: high rate and low rate. The high rate channels offer transmission speeds up to 275Mbps, or about 75 times the speed of a typical residential Internet connection. High rate channels are used exclusively to transfer science and operational data files from South Pole. Low rate channels operate at rates of approximately 5Mb/s, and provide Internet and telephone services to South Pole network users, routed via the USAP Denver data center.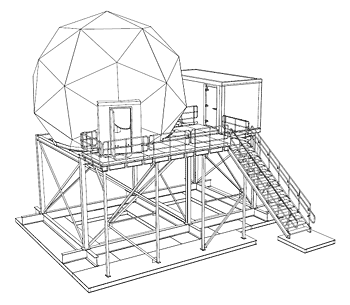 TDRS satellites are shared with NASA and other users in the space sciences community, such as the Space Shuttle

, International Space Station

, and Hubble Space Telescope

, so access schedules are not always consistent and predictable.
NASA makes a great effort to ensure South Pole Station is granted adequate access time to conduct science and operational communications, but cannot always provide a seamless and consistent access schedule. Online times and durations via TDRS vary daily; however, SPTR2 is typically online and providing South Pole with communications from between two and four hours each day.
The NASA Space Network serves as the teleport and satellite control facility for TDRSS, including a ground station at the White Sands Complex (WSC) near Las Cruces, New Mexico. The NSF maintains a network presence at WSC to connect back to the USAP Wide Area Network (WAN) to forward the high and low rate traffic.
NASA Space Network


NASA Tracking and Data Relay Satellite System (TDRSS)