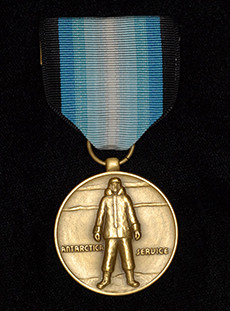 Image of the Antarctica Service Medal, established in 1960 and awarded to those in the service of United States interests in Antarctica
Civilian participants who deploy to an Antarctic research station or vessel and remain south of 60 degrees South latitude are eligible to receive an Antarctica Service Medal and Certificate from the National Science Foundation.
Eligibility is based on cumulative service of at least 30 days prior to September 30, 2008. After October 1, 2008, eligibility is reset and based on cumulative service of at least 10 days.
Background and History of the Antarctica Service Medal
---
If you are eligible to receive a medal and certificate and have not, it may have been returned to us because we do not have your most current address on file.
Please send a written update of your name and address, and include a current phone number or email address, to:
Antarctic Support Contract
Attn: TL/Antarctica Service Medals
7400 S. Tucson Way
Centennial, CO, 80112-3938
For military personnel eligible for this award, please contact your command.
---
Civilian Medals and Certificates Have Been Mailed for the Following Seasons:
We are happy to announce that the review of the Antarctic Service medals program is now complete and medals will now be processed. Thank you for your patience as we work through the backlog of issuing these medals.
Summer Seasons
Winter Seasons

2019-2020

2018-2019

2017-2018

2016-2017

2015-2016
2014-2015
2013-2014
2012-2013
2011-2012
2010-2011
2009-2010
2008-2009
2007-2008

2006-2007

2005-2006

2004-2005
2003-2004
2002-2003
2001-2002
2000-2001
1999-2000
1998-1999
1997-1998
1996-1997
1994-1995

2020

2019

2018
2017
2016
2015
2014
2013
2012
2011
2010


2009

2008

2007
2006