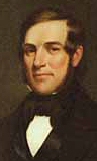 The vessel was named after merchant marine and ship builder, Nathaniel Brown Palmer (August 8, 1799 to June 21, 1877). The son of a Connecticut ship builder, Palmer had a prosperous and adventurous life as a sealer and whaler, a sea captain, and a ship designer and builder. He was a pioneer in the clipper era and some historians credit Palmer with the discovery of Antarctica, although others challenge this view.
The RVIB Nathaniel B. Palmer is operated by the Antarctic Support Contract (ASC)

on a long-term charter from Edison Chouest Offshore (ECO)

, Galliano, Louisiana. ASC staffs the vessel with a charter representative to coordinate cruise planning and scheduling, and with a technical staff to support science operations. ECO provides the vessel master, ice pilot and crew.
The Palmer, completed in 1992, is 308 feet long and is ice-classed ABS-A2, capable of breaking three feet of level ice at three knots. The Palmer can accommodate 39 scientists and staff in one and two-person staterooms. Each stateroom has a television and computer Ethernet connection. The ship has a galley and a common dining area, conference room/library, lounge with audio and visual systems, a sauna and an exercise room.
For more information on living conditions, see Life Onboard the Nathaniel B. Palmer.
Drawings and Specifications